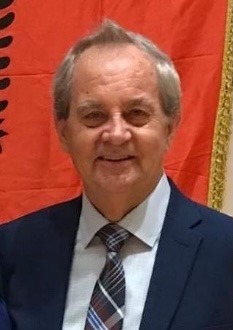 Luan Kalana- poezi english -shqip
BOOKS LOVER-POETIC LOVE -... to poets Anonymous
"Medicine is the woman, while Literature is the lover - Anton Chekhov
Squeeze the memory on the paper like a lemon,
to extract juice, honey or ointment for wounds,
as a mother when she gives milk to a child with tears, ...
to make love poems for the whole world ..
To give friends a will estate,
for himself poor nothing on the cards, ownership
tried to find the needle in the straw,
the strings came out like shoots, long shoots…
He blinded his eyes to embroider, to carve words,
to make strings of pearl pendant necklace,
to give all mankind the soul in verse
to hang on to girlfriend, over heart like medallion, ..
Asked for alms to the prophets poets,
any words, do we rhyme to play,
with contempt they returned the notebook,
"Poor verses, missing syllables! "
He closed with loneliness to polish the poem,
the day could not take the owner's breath away,
at night he lined up, glued the words with glue
with the flame of the candle he melted the letters and dripped them ..
He ate with his teeth, the verse did not suit him
with the blood of fragmented fingers, the words blazed ..
with tears of despair as the gelatin polished,
the poem adorned the bride, until the light sparkled.
@ Modest font.
DASHURIA POETIKE -...poeteve Anonim
"Mjeksia është gruaja , ndërsa Letërisa dashnorja -Anton Cehov
-Kujtesen shtrydhte në leter si limon,
të nxirrte lëng,mjaltë a melhem për plagë,
si nëna kur fëmijës i jep qumësht me lot,...
të bënte vjershë dashurie për mbarë boten ..
T'ia dhuronte miqve testament pasuri,
për vete i varfër asgjë në karta,pronësi
mundohej të gjente gjilpërën në kashtë,
vargjet i dilnin si filiza, lastarë të gjatë…
Sytë verbonte të qëndiste,të skaliste fjalët,
të bënte vargjet gjerdan varëse margaritar,
t'ia jepte tërë njerëzisë shpirtin në vargje
t'ia varte të dashurës, mbi zemër si medaljon,..
Kërkonte lëmoshë poeteve profetë,
ndonjë fjalë, a rimë që të lodronte,
me përçmim ia kthenin fletorkën ,
"vargje të varfra, mungojnë rrokjet! "
U mbyll me vetminë vjershën ta lëmonte,
dita s'i arrinte pronarit t'ia merrnin frymën,
natën radhiste, ngjiste fjalët me zamkë
me flakën e qiririt shkrinte gërmat i pikonte..
Hante veten me dhembë,vargu s'i shkonte
me gjakun e gishtave copë,fjalët flakëronte..
me lotët e dëshpërimit si xhelatinë lustronte,
vjershën e stolisi nuse, derisa driti e xixëllonte.